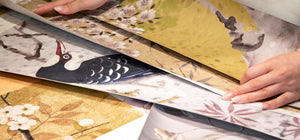 Ocashi's Unique Resources
Our mural designs are created through a meticulous collage process, and we are constantly collecting unique original paintings that serve as the source of our designs.
Those elements are mixed– hand-painted parts such as flowers, birds and plants by Japanese painters who share our sensibility, and antique hand-painted chinoiserie murals that were searched for and purchased from around the world are "re-woven" together into our new designs.
Meet the Artist
Suzu Ishii
Suzu Ishii was born in Osaka, Japan in 1981. She graduated from the Japanese Painting Course, Department of Fine and Applied Arts, Faculty of Arts, Kyoto University of Art and Design. Since graduation, Suzu has been active in holding solo exhibitions and participating in art fairs and is often featured in domestic media as an up-and-coming traditional Japanese painting artist.
She specializes in painting vivid life force animals (real ones and ancient imaginary ones) and plants. Both Suzu herself and her paintings have a dynamic and gorgeous aura that seemed perfect for our products, so we asked her to collaborate. We love her style and think she is a perfect compliment to our visual story.
For more information, see her
Official Website
.
"When my heart is shaken by the motion, shape and color of plants and animals, I can't stop imagining these creatures. I see them as a symbol of something or some creature from another universe. I love them from the pure perspective of a child, and I dream about them. Drawing is my way of bringing those dreams out of my head. The colors and shapes may be a little different from reality, but the dream I had is reproduced with my own coloration." by Suzu
We think that not only the design of the mural, but also what kind of substrate that the design is printed on, is an important factor in expressing our image. Our substrates are selected with a focus on the uniqueness of Japanese made and sourced papers.
Fusion of Machine and Handwork
The Japanese substrate, known as Wa-shi, is created in Japan by a complex process of straining, cutting, twisting, dyeing, and weaving, using a wood product as the main ingredient.
For example, our Wa-shi pattern shown here, is made by layering metal foil-pressed paper and thin fibrous paper together. A machine sprinkles droplets of water on the surface creating a unique pattern. Fine-tuned adjustments such as the dispersion of fibers and the speed at which the water is dropped are skills our craftsmen have learned and which result in our high quality substrates.
The combination of machine and handwork creates a Wa-shi with uniform thickness but with a unique texture and one-of-a-kind pattern.
Quality and Safety Assurance
Ocashi prints each order one by one at our studio in Japan. Our printing specialists adjust the delicate coloration of each order and the work passes our rigorous quality control process before shipping.

Our wallpaper has passed the "Four-Star*" formaldehyde test in Japan, confirming formaldehyde safety.

*Four-Star: It is a quality assurance program in Japan that is given to the highest rated materials guaranteeing our compliance to health and safety standards.

And the ink we use for printing has a very low volatile organic compound level, has almost no smell compared to common solvent inks, and is "GREENGUARD Gold*" certified, which is both human health and environmentally friendly.

*GREENGUARD Gold: It is a worldwide certification program by UL Environment.Certified products demonstrate that the inks used during printing and printed materials (including indoor used wallpaper) contribute to a healthy indoor environment by minimizing the negative effects of chemicals in the air. For more information, visit ul.com/gg.