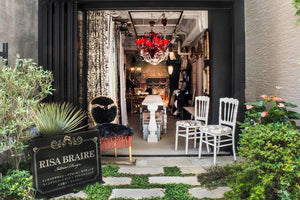 Our Team
Ocashi is a brand by Risabraire, a Japanese interior design studio.
The director, Yasue Ishikawa, started Risabraire Co., Ltd. in 1995.
The company provides full interior design services, specializing in soft furnishings designs and installations. These luxury fabrications often include specialized fabrics we find and import during our sourcing trips abroad. 
With successful growth, in 2015 the company moved our business into a larger space, designing and building our own retail center in Kobe, Japan. 
Soon we introduced digital printing services, allowing us to print custom wallpaper and fabrics using our own original designs. 
Inspired by historical chinoiserie murals, we have created original wallpaper designs based in that style, which we have used for many commercial and residential projects across Japan.  The Ocashi brand is the culmination of our innovative use of historically-based patterns infused with modern artistry that we are proud to present to the world.
Yasue Ishikawa
Yasue has won many international awards for her home furnishings and soft products designs. She has written two books, Simple Chic Interiors, and, Window Design, both by Toso Publications. Her work as been featured in dozens of shelter publications in Japan and the USA. She also founded the Japan chapter of IFDA, the International Furnishings and Design Association, and through that organization introduced the designer showhouse concept to Japan.
Risa Ishikawa
Like her mother, Risa had a keen interest in art and design and when it came time for college, she ventured to New York, where she majored in Product Design at Parsons School of Design. Later her responsibilities at a product design firm, YS Design Co. Ltd, included creating product packaging for the Panasonic hair dryer, packaging designs for a global cosmetic company as well as other creative projects. After several strategic career changes, she finally decided to bring her extensive design expertise back to the family business.
The moment that sparked the creation of our panoramic wallpapers was an encounter with a piece of hand-painted wallpaper that was displayed as an antique "Chinoiserie mural" on a trip to France in 2015. The murals were overwhelmingly beautiful and fascinated us with their fantastic scenery and were unlike anything that we had ever seen in Japan. Surprisingly, they were painted in Japan and exported to Europe 150 years ago!
I wondered why those wallcoverings that were made in Japan so long ago, had not been preserved and celebrated in our country? ( We later learned that this was made for export to Europe from the beginning.) 
That chance encounter was the impetus for us to create such beautiful murals for modern life! We began designing and printing our original wallpaper.
To explore the infinite world view, collaging together vast amounts of materials, combining designs, printing on Japanese substrates, and also pursuing "Japanese identity" by employing gifted local artists… These are the things that give us the greatest pleasure here at OcashiDesigns. We hope you feel that sweetness too when you experience our collections.
Thank you for taking the time to go on this journey with us.